K11 ATELIER next-gen workplace
A dynamic environment where innovation, creativity, culture, and commerce thrive is what it takes to empower the next-generation workforce to unleash their potential.  K11 ATELIER, located on both sides of the harbour, is the first in the city purposely built to foster creativity at every level.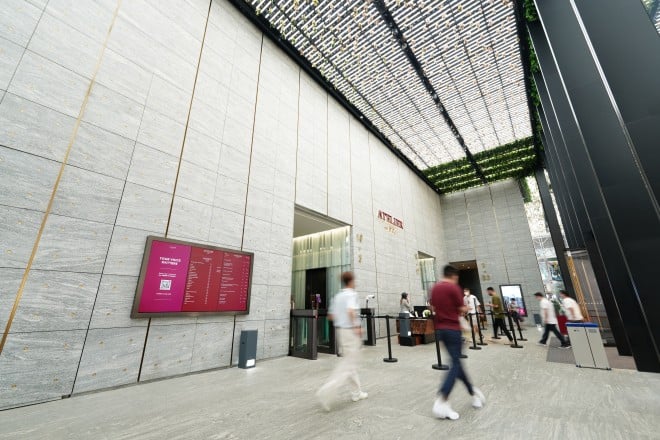 Reinventing the modern workspace
Conceived and superbly crafted to meet next-generation businesses' changing needs and concerns, K11 ATELIER stands out for its pioneering concept of building a "Vertical Creative City" with a "Creator Hub" concept for its office tenants. Located at Victoria Dockside in Tsim Sha Tsui and on King's Road in Quarry Bay, these two contemporary Grade A office buildings break new ground by marrying people-oriented design, purpose and culture harmoniously into a collaborative office environment. Thoughtful breakout areas and green communal spaces evoke conversation and foster transformation, while a multi-purpose art space offers office tenants a novel space to use for business promotion and audience engagement. What's more, they can take part in bespoke community programmes like inspiring meet-ups, innovative workshops and endorphin-boosting wellness classes that offer exclusive experiences.
The address of choice for industry forerunners
These extraordinary workplace experiences, together with smart workplace solutions and an integrated support ecosystem, have drawn forward-thinking elites in the investment and banking, health and technology and design and art sectors to call K11 ATELIER home. Industry forerunners who thrive in diversity, challenges, and change find their state-of-the-art workplace allows them to break free and innovate with disruptive ideas, setting the cornerstone for business success and sustainable growth.
The Voices of K11 ATELIER
An ensemble of these influential leaders, entrepreneurs, and visionaries from diverse fields share their stories about how the connection between creativity, culture, and innovation they have experienced at their workplaces has shaped their business.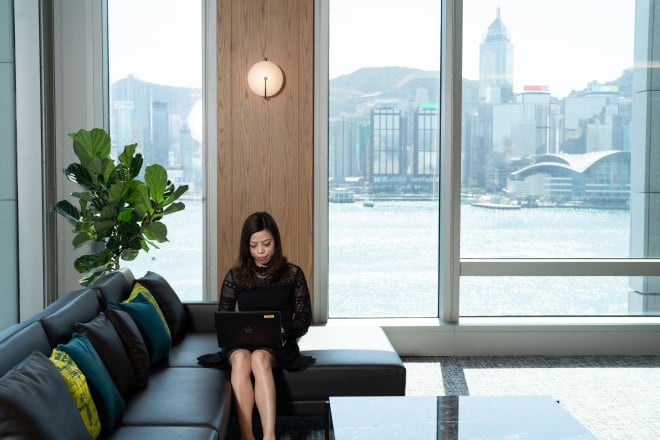 Standard Chartered Hong Kong, a K11 ATELIER Victoria Dockside office tenant, hand-picked the building for its first dedicated Priority Private Centre for affluent customers seeking a stimulating way of life. The 160-year-old international bank finds the location unmistakably unique, making it an unorthodox yet welcomed address for banks who wish to defy stern traditions. But, at the same time, extend the most convenient venue for the cross-pollination of ideas with customers and business partners. Its lavish lounge with an intimate area and dramatic 270-degree Victoria Harbour view is ideally suited for conducting open dialogue about optimising investment potentials. At K11 ATELIER, office tenants can experience all sorts of lifestyle details and business aspirations pursued by the next-generation workforce. Working in a positive environment that upholds innovation, connection and collaborative success, employees can learn new skills, share fun and exchange knowledge through the K11 ATELIER ACADEMY, and enjoy an array of exclusive privileges and high-end services brought by the K11 ecosystem.
For Prenetics, a prominent biotech company headquartered in K11 ATELIER King's Road, the innovative, industry-disruptive and leadership spirit encapsulated in K11 ATELIER dovetails with its own. To them, every corner of the building, including its stunning "Floating Green Box", lush rooftop garden and distinctive scent, is aesthetically pleasing and functional, offering a sanctuary for open, collaborative culture and sharing of impactful ideas.
The omnichannel activities and engagement programmes offered by K11 ATELIER ACADEMY, like industry forums, workshops and sharing sessions, bring to the community the platform and opportunity to expand networks, showcase insights and communicate with a broader target audience. Sponsorship of venues and the experiential journey are also available for amplification and commercialisation. This culture of open collaboration, set in an innovative and inspirational environment, fosters impactful ideas and unforgettable stories.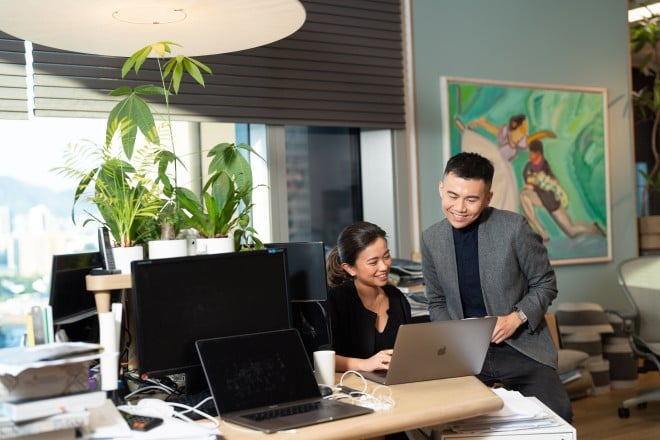 Echoing the sentiment is AB Concept, an award-winning design studio devoted to superior designs that act as a conduit for heightening human experiences within a given space. They consider the
spellbinding environment at their K11 ATELIER Victoria Dockside workspace as encouraging workers to immerse themselves and promote constructive dialogue for desirable collaborations. The meticulously pieced together architecture and interiors create spatial sensations that allow them to innovate. Meanwhile, neighbour and leading global bank Mizuho says its location offers intuitive access to a network of opportunities with high-calibre partners. That facilitates the sharing of cross-industry know-hows, paving the way for business alliances.
The K11 ATELIER unique office community is integrated with technology, innovation, collaboration, wellness and sustainability.  Such extraordinary workplace experience and its complete ecosystem attract and pull together innovative disruptors, absolute achievers, forward thinkers and leaders of tomorrow.  They spark creativity and exchange ideas for business success and sustainable growth, showcasing "The Business Hub of the Future" concept that embraces and fully supports new economies.
For Flow Capital, an Asia-focused asset management platform over at K11 ATELIER King's Road, the rich office environment boosts team spirit and fosters culture. It is worth mentioning that office tenants of K11 ATELIER are encouraged to participate in Creating Shared Value Lease(CSV Lease), an industry-first tenant engagement to promote and drive sustainability among their tenants and employees. It helps cast a positive impact on businesses and corporates in the community.
Leading in the new era of work
K11 ATELIER has redefined the workspace with its next-generation and community-building approach, driving transformation, innovation, and social progress in just three short years. Like-minded changemakers who have based their business there are thrilled with the game-changing work culture that advocates an entrepreneurial spirit, the constant pursuit of inspiration and creative discourse. Such is the appeal of K11 ATELIER that AB Concept affirms that its office is where employees want to be in. And soon, more next-generation workforce can experience this empowering workplace and live out their ideas and passions at the upcoming K11 ATELIER 11 SKIES located at the new Sky City at the Hong Kong International Airport.
In addition to Hong Kong, K11 ATELIER has already made its mark in Mainland China, with its footprint covering Shanghai, Guangzhou, Shenzhen, Ningbo, Wuhan and Tianjin. Its premium office space, comprising over 12 million square feet in total, caters to the rapid growth of new businesses in the city and across the border, housing many next-generation creators, entrepreneurs and corporations.
View full article: https://www.scmp.com/presented/business/topics/k11-atelier-next-gen-workplace/article/3164179/k11-atelier-supercharges